Commandos
AnnieAnnieAnnie(VCDF011) was born on September 12, 2005 in the Commandos. Her mother was Zorilla and her father was Aragorn. Her litter-mates were Flash(VCDM009), VCDP010, VCDP012 and Katharina(VCDF013). Sadly two of her litter-mates were lost as pups. AnnieAnnieAnnie and her two remaining siblings survived her first year of life. In April 2007, Aragorn died and AnnieAnnieAnnie´s older brother ketamine became the dominant male.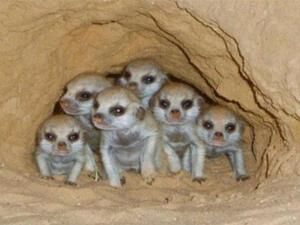 After some months, Flash left the group for good with Ketamine and all of the adult males. Several Whiskers males joined te group and Zorilla started evicting
her daughters. AnnieAnnie was evicted along with her two younger sisters Jemima and Suzi Two-Tone MacFloozie and left the group for good in December 2007.
Geckos
They soon were able to team up with three wild males and formed the Geckos Mob on December 19, 2007. AnnieAnnieAnnie quickly took the position of dominant female along with one of the wild males. Jemimi and Suzi Two Tone McFloozie gave birth to a mix litter of four pups. However, AnnieAnnieAnnie lost her dominance in June 2008. After some trouble, she was able to take back her position of dominance in September. After that, she gave birth to Okaukuejo, Halali, Nanutoni, and VGCP011 on August 2008. Tragically, VGCP011 was killed in the month to follow. In December 2008, AnnieAnnieAnnie gave birth to VGCP012, VGCM013, VGCM014, VGCM015, VGCP016, VGCM017, and VGCM018. After she gae birth Suzie Two Tone McFloozie regrouped the group and overthrow AnnieAnnieAnnie. Jemina gave birth to another litter in February 2009. A few months later AnnieAnnieAnnie and Jemima were evicted and were absent from the mob with four other members. They were never seen again and Last Seen in June 2009. Soon after the Geckos were lost.
Links