Arrested Development Whiskers

Mob(s)

Dominant

No

Date of Birth

March 9, 2004

Date of Death

January 23, 2006

Cause of Death

Last Seen

Parents

Litter-Mate(s)

Mate(s)

None

Children

None

Known For

One of Baddiel's sons

Arrested Development(VWM069) was born on March 9, 2004 in the Whiskers. His mother was Baddiel and his father was an unknown roving male. He was born with three litter-mates, his sister De La Soul(VWF068) and two brothers Bad Boy Bubby(VWM071) and Flava Flav(VWM070). His grandmother was the dominant female and she had abandoned the pups but their mother Baddiel carried each pup to the new burrow. After that the pups were allowed to remain in the Whiskers. Arrested Development and his litter-mates were the first surviving litter born to Baddiel. Arrested Development was the smallest pup in the litter and looked sickly compared to the others, but he managed and survive along with his siblings to adulthood. Arrested Development's mother Baddiel mated with a rover named JD and gave birth to Jogu(VWM081), Maladoy(VWM080) and VWM082 in October 2004. Sadly VWM082 disappared, but the other pups survived to adulthood. At some point in 2005 Arrested Development went roving for the first time along with Big Will and Yossarian. The boys visited the Lazuli, where Big Will was sucessful in finding a mate. But Arrested Development and Yossarian had no luck. At the beginning of 2006 Arrested Development went roving again, this time with Big Will, Pookie, Flava Flav and Stato. They all were Last Seen on January 23, 2006.
Meerkat Manor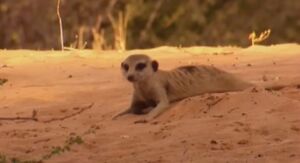 Arrested Development played as Mitch in the first few episodes of the second Meerkat Manor season. In The Three Amigos he went roving at the Lazuli with Youssarian(Yossarian) and Big Will, but was chased off by JD. Later that episode Yossarian tried to teach Arrested Development how to rove successfully, but both males ended up being chased off. In the following episode, Young Blood, the three rovers try their luck at a Lazuli babysitting burrow. Mitch approaches a lone female named Marilyn(Aretha) but is once again chased off. He makes no further roving attempts following that and Arrested Development's role on the show ceased.
Family
Mother: Baddiel
Father: Unknown
Sister: De La Soul
Brothers: Bad Boy Bubby, Flava Flav, Jogu, Maladoy and VWM082
Links