Bananas Whiskers

Mob(s)

Dominant

No

Date of Birth

November 11, 2005

Date of Death

October 2009

Cause of Death

Last Seen

Parents

Litter-Mate(s)

Mate(s)

Unknown

Children

Known For

Aztecs and Van Helsing Founder

Also Known As
Whiskers
Bananas(VWF097) was born on November 11, 2005. His mother was Flower and her father was Zaphod. Her litter-mates were Butch Cassidy(VWM098), Sundance (VWF099), Alonzo Mourning(VWM100) and Orinoco(VWM101). Sundance was predated as a pup by a goshawk. The four remain pups all made it to adulthood. Bananas often took care of her mothers pups and was a great babysitter. She and her sister Finn took care of Ren and Stumpy during a group split however both pups were predated. After the groups rejoined Flower died on January 25, 2007. After Flower's death, Rocket Dog took dominance. Then in March 2007 a small of meerkats splitered away from the Whiskers and never rejoined.
Aztecs
Since the splinter group never rejoined the Whiskers, the small group was called the Aztecs. Monkulus took female dominance after three months since she was the oldest. Bananas was the youngest adult female. Within the group were four pups and four adult females, the other members left and rejoined the Whiskers. A Young Ones male named Homestar Runner joined the group and took dominance. However Bananas' father Zaphod and brothers Logan, Ningaloo, Alonzo Mounring, Orinoco and Mitch lelf in September 2007 and join the Aztecs, kicking out Homestar Runner. Mitch dissapeared while Ningaloo rejoined the Whiskers after a group encounter. In August of 2008, Logan and her litter-mate brother Orinoco were Last Seen, but later seen in a wild group. Butch Cassidy remained in the Whiskers but died from a snake bite. Her litter-mate brother Alonzo Mourning was the last of their litter in the KMP and ecame a big rover. Monkulus later evicted Bananas, Flo and Billy from the Aztecs. All three were pregnan, however Flo aborted and Billy lost her litter.
Van Helsing
Bananas then gave brith to Hoki-Tu, Chole, Juani and Tortilla on January 15, 2009 and soon after that, two wild males, probably the father, joined the females to form the Van Helsing. Flo and Titan took dominance. Bananas pups started to foraged and all survived to adulthood. In early October 2009 Bananas disappeared.
Family
Mother: Flower
Father: Zaphod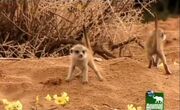 Sister:Sundance
Brothers: Butch Cassidy, Alonzo Mourning and Orinoco
Daughters: Chole , Juani and Tortilla
Son: Hoki-Tu
Meerkat Manor
Bananas was
featured on Meerkat Manor in season 2 as a pup named Athena. Her littermates also had roles. Butch Cassidy played Apollo, Alonzo Mourning played Pepper, Orinoco played Nutmeg and Sunance played Blossom. Blossom was much more adventurous than her siblings and wondered off. Sadly, she was taken by a hawk in the episode Growing Pains. In season three, Bananas returned and had a brief role as the meerkat, Sparkle. Sparkle was seen babysitting Len(Ren) and Squiggy(Stumpy). A scene of her grooming and caring for the pair was removed in the US version of the show. Bananas made her final cameo in season 4 as an evicted female, where she went by her real name.
Links