Bandersnatch Lazuli

Mob(s)

Dominant

Yes, of the Axolotls

Date of Birth

March 2012

Date of Death

November 2015

Cause of Death

TB

Parents

Litter-Mate(s)

Mate(s)

Children

Unknown

Known For

Successful roving

Also Known As

First dominant male of Axolotls
Lazuli
Bandersnatch(VLM193) was born in March 2012 in the Lazuli. His mother was either One Eyed Wilma, Shallot or Mayer and his father was an unknown rover, possibly one from Sequoia. Bandersnatch's litter-mates were his two sisters named JubJub Bird(VLF194) and TumTumTree(VLF195). In June 2012 there was a group split, Bandersnatch was in the splinter but ended up rejoining the mob. Strangely, Bandersnatch followed the roving males in October 2012 when he was just seven months old, and went roving with them. He returned to the Lazuli afterwards but went roving again in Janaury 2013. In March 2013 Bandersnatch's sister TumTumTree was evicted and Last Seen. That same month Bandersnatch and his remaining sibling JubJub Bird reached maturity. In late 2013 some Baobab and wild males joined the Lazuli and kicked Bandersnatch, Drachentöter and the Baobab male named Bumpy out of the group. The three males went roving and in November 2013 met up with two evicted Sequoia females from the nearby Überkatz Mob.
Chalibonkas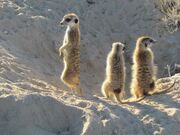 The small group stayed together and became known as the Chalibonkas Mob. Bumpy established dominance with the Sequoia female Ricou. Bandersnatch took a subordinate role and became a regular rover. In December 2013, he visited Uberkatz and mated with a young female named Frosting. She did not get pregnent though. Bandersnatch's roving success continued; in January 2014 he mated with Rascals' dominant female, Edna May three times in two days. However he was unable to stay with due to the presence of unrelated males. In April 2014 Ricou and two other Chalibonkas members were hit by cars and died, leaving the group with no adult females. In spite of the lack of a breeding female the adult males remained with the group to raise the young, remaining members. Bandersnatch, however, went roving on a monthly basis. In July 2014 a subadult female, Kinkaju, became the dominant female. She eventually fell pregnant and had pups, but none of them survived. Gradually the males began to disperse. In December 2014 Bandersnatch and two unnamed Chalibonkas males left the group for good.
Axolotls
The three males joined up with Uberkatz females and formed the Axolotls Mob. Bandersnatch became the dominant male of the group and, after two months of dispute, Pug became the dominant female. Since becoming the dominant male Bandersnatch has not gone roving. Bandersnatch died in November 2015 due to TB.
Links