Jurassic World: Dominion Dominates Fandom Wikis - The Loop
Play Sound
Cave Men Mob

Date of Forming

October 2011

Founders

Dikkop, Gene, Megan Fox, Franz, Rufio and Brea

Dominant Female(s)

Dikkop

Dominant Male(s)

Franz, Rufio and Snowy

Last Dominant Female

Dikkop

Last Dominant Male

Snowy

Number of Members

10

Last Seen

May 2013

Last Known Member

Pet

The Cave Men was founded in late 2011 by three JaXX females and three Lazuli males and was soon joined by an escaped pet meerkat. Dikkop establisted dominance however the two suboridnate females rejoined the JaXX. Male dominance past to Rufio after the death of Franz. Even after new Lazuli males joined the group the Cave Men had no successful litters, losing them within months of birth. In early 2013, the Dikkop disappeared after looking very ill for several day and the remaining males started to disperse.
Dominant Pair
The eldest of the females, Dikkop establisted dominance. Franz assumed the role of dominant male, however Franz soon died laving his younger brother Rufio became the next dominant male. In September however three more Lazuli males joined the group Snowy ousted Rufio from the dominant male position. In February 2013, Dikkop disappeared after looking very sick for several days and did not return. With no females left in the group, Snowy left to rejoin the Lazuli while the other males started to rove. In April 2013, Snowy rejoined the group however he didn't take dominance again.
All Known Members
A list of meerkats born or joined the Cavemen.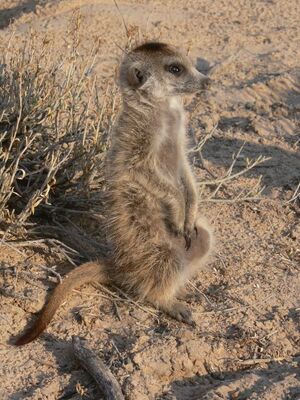 Dikkop (VJXF008)
Gene (VJXF017)
Megan Fox (VJXF018)
Franz (VLM149)
Snowy (VLM147)
Rufio (VLM155)
Brea (VLM157)
Dis-Grace (VLM172)
Cagliostro (VLM179)
Pet (VCVM001)
VCVP002
VCVP003
VCVP004
VCVP005
VCVM006
James Bond (VCVM007)
VCVP008
VCVP009
Bon Marche Rainbow Trout  (VCVF010)
Rivals
The Cave Men held a small territory in-between the Lazuli, JaXX and Toyota.