Cody Commandos

Mob(s)

Dominant

No

Date of Birth

November 24, 2007

Date of Death

January 1, 2009

Cause of Death

Tuberculosis

Parents

Litter-Mate(s)

Mate(s)

None

Children

None

Known For

Jogu's son
Commandos
Cody(VCDM037) was born in the Commandos Mob on November 24, 2007. He was born with his brother Benno (VCDM035) and sisters Yara(VCDF036) and Sera(VCDF038). His mother was Zorilla the dominant female at the time and his father was Jogu who was roving. Before Cody was born, five Whiskers males had joined the Commandos with the eldest Zarathustra taking dominance next to Zorilla. His father didn't joined the Commandos with the other Whiskers males. Sadly Benno was predated in February 2008 followed by Yara and Sera who were was predated in March. Cody was the sole survivor of his litter. Against all odds, Cody manged to survive his first year and reach adulthood by November 2008. He started to take a more active role in the Commandos, helping out with sentry and babysitting duties. He soon started to take an interest in roving along with his older half-brother Coop. Sadly, his mother and four of the Whiskers males were lost. Cody himself died of disease on January 1, 2009 after living in the Commandos for a year and a half.
Family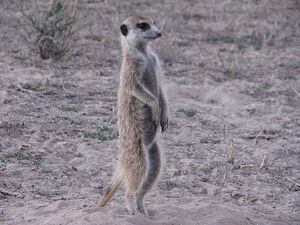 Mother: Zorilla
Father: Jogu
Brother: Benno
Grandmothers: Baddiel  and Risca
Great Grandmothers: Flower and Brambles
Great Grandfathers: Zaphod and Argon
Meerkat Manor
Cody's litter was seen in season four of Meerkat Manor as the offspring of Nikita and Seacret. His mother Zorilla played Nikita in season four and their father Jugo was one of the many males that helped to play Seacrest. None of Cody's litter were given offical names however in one of the episodes titled The Birds, one of the pups was referred to as Brutus whose scorpion was stolen by Nikita. It was never state with one of the pups played Brutus.
Links