Dougal Zappa

Mob

Dominant

Formerly of the Zappa

Date of Birth

January 15, 2004

Date of Death

January 29, 2007

Cause of Death

Disappeared

Parents

Bettik and Mack

Litter-Mates

Brian, Dylan, Ermintrude and Zeberd

Known For

Dominant Male of the Zappa

Also Known As

Dougal(VZZM025) was born into the Zappa Mob on January 15, 2004. His mother was the dominant female Bettik and his father was the dominant male Mack. His litter-mates were Brian(VZZM024), Dylan(VZZM026), Ermintrude(VZZF027) and Zeberd(VZZF028). They survived their first few weeks. Sadly Brain and Zeberd both died on April 6, 2004 when they was only four months old. Dylan died on July 27, 2004 at the age of seven months. Only Dougal and Ermintrude survived to adulthood. His sister Ermintrude mated with a rover and gave birth to her own litter of pups on December 4, 2005. Dougal became an uncle for the first time. The new pups were Monster Munch(VZZM047), Aurora(VZZF048), Scallywag(VZZM049) and Shadowflax(VZZM050). All the pups survived to adulthood. At that time the Zappa group was a big mob with a breeding dominant pair. Dougal babysat his mother's pups and took sentry duties with his father and brothers. He roved a few times. Ermintrude gave birth again on February 24, 2006 to Naboo(VZZM051), Tatooine(VZZF052) and Endor(VZZM053). They survived to adulthood as well. Ermintrude was evicted and disappeared on March 30, 2006. After Dougal's mother Bettik died and his father leftt he group his younger sister Lola took dominance. Than a Young Ones male named Glufs joined the group and took male dominance beside Lola. She gave birth on August 12, 2006 to Dirty Harry(VZZM054), Milla(VZZF056), Katesa(VZZF057) and Kamakazi(VZZM058). Sadly Kamakazi died on September 25, 2006. Her other three pups survived. Glufs soon disappeared after. Dougal was the oldest male so he assumed male dominance. Lola wa sover thrown by her sister Punk who became the new dominant female. Dougals left the group to rove and disappeared on January 29, 2007.
Meerkat Manor
Dougal became famous because he was featured on Meerkat Manor for playing meerkat named Houndini. He was seen as rover, in the show. Houndini was seen mating with Flower but in real life that was a Young Ones  male name Aurinko.
Family
Mother:Bettik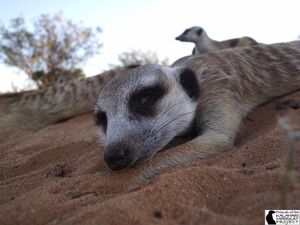 Father: Mack
Sisters: Ermintrude and Zeberd
Brothers: Brian and Dylan
Nephews: Monster Munch, Scallywag, Shadowfla, Naboo and Endor
Grandmother: Tenuvial and Vivian
Grandfather: Silks and Drie Doring Male
Great Grandmother: Mabili
Great Grandfather: Keros
Links