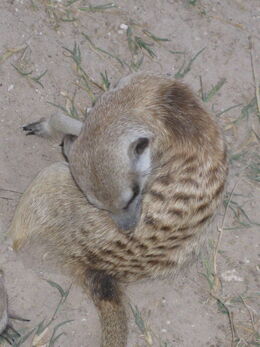 Kung Fu
Dragon's Fist(VKUF008) was born on August 22, 2008 in the Kung Fu Mob.Her mother was dominant female Kleintjie of Gattaca origins and their father was Ningaloo of the Whiskers. Her litter-mates were her sisters Eagle's Claw (VKUF010), Tiger's Paw(VKUF011) and Pai Mei(VKUF012). All four females survived to adulthood. Kleintjie evicted Eagle's Claw and Tiger's Paw a few times but she let them back into the group. Tiger's Paw disappeared along with Eliot and Woolf. It is unknown what happen to her. Dragon's Fist is now an adult meers and her sisters are now babysitters for their mother's pups. They were the oldest females in the group beside their cousin McDreamy.
Ewoks
She was evicted with her sisters and cousin. They joined two Rascal males and two wild and formed the Ewoks Mob. McDreamy assumed female dominance along with Tigi. McDreamy evicted all the subordinate females when she got pregnant for the first time. However the pups were killed in an encounter with the Kung Fu. The next time McDreamy got pregnant she evicted Dragon's Fist along with her two litter-mate sisters and younger sister. The females disappeared, it is unknown what happened to them. They were Last Seen in December 2010.
Dragon's Fist and her sisters' names were change from their original names. Their names were Mai, Pai, Tai and Chi.
Family
Mother: Kleintjie
Father: Ningaloo
Sisters: Tiger's Paw, Eagle's Claw and Pai Mei
Grandmothers: Flower  and Risca
All her grandparents were in the Whiskers at some point.
Links