Einstein Whiskers

Mob(s)

Dominant

No information

Date of Birth

November 8, 2002

Date of Death

February 27, 2006

Cause of Death

Last Seen

Parents

Litter-Mate(s)

Mate(s)

Unknown

Children

Unknown

Known For

Also Known As

Part of

Flower

's second surviving litter
Whiskers:
Einstein(VWM052)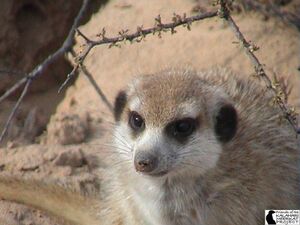 was born in November 8, 2002 in the Whiskers Mob. His mother was Flower and his father was Zaphod, the dominant male at the time. Einstein was born in an average litter of four pups. He had three litter-mates, one sister named Mozart(VWF053) and two brothers named Freud(VWM055) and Shakespeare(VWM054). They were Flower's second surviving litter ever. All pups in his litter survived to adulthood without much event. He began to rove with the other males in the group. Einstein was still in the Whiskers when Meerkat Manor first started to be filmed, however he soon left the Whiskers along with his his uncle Alexander in October 2004. So the role of Einstein was played by his younger brother Logan.
Young Ones:
The two rovers came across the the Young Ones Mob which had lost most of their males to roving. The group accepted the new males into the group. Being the younger of the two males at the ages of two, Einstein did not challenge his uncle Alexander for dominance. Alexander took male dominance beside the dominant female Asterix. Einstein stayed in the mob and never challenged his uncle for dominance. Einstein stayed in the Young Ones for two years before he either was Last Seen or Died on February 27, 2006. 
Family:
Mother: Flower (Deceased | Snake Bite | Jan 27, 2007)
Father: Zaphod (Passed away from Old Age in 2011)
Uncle: Alexander (Predated | November 15, 2007)
Links