Gringo Gattaca

Mob(s)

Dominant

No

Date of Birth

November 14, 2002

Date of Death

December 13, 2006

Cause of Death

Parents

Litter-Mate(s)

Mate(s)

Unknown Rover

Children

Known For

Commando Founder

Also Known As

Mojadji's daughter
Gattaca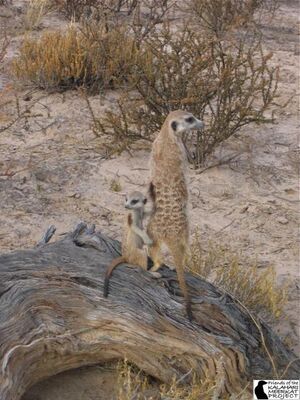 Gringo(VGGF010) was born in the Gattaca on November 14, 2002. Her mother was Risca, and her father was not Izit or Stinker, but a Balrog male named Mojadji. Gringo was born with only one litter-mate brother named Pancho(VGGM011). Both pups survived through their first year; however, her brother Pancho died November 9, 2003. Risca finally gave birth in November 2003 to four pups. Now at a year old Gringo was expected to help out with the new pups, hbut her mother hardly produced any litters. In late 2004, Risca evicted Gringo with her sisters Fenodree, Zorilla, Kleintjie, Mary Pat, and Mrs. Doyle from the group. The females stayed together and soon were joined by a group of Young Ones males.
Commandos
The males stayed with the females and formed a new group called the Commandos. The oldest, biggest, and strongest of the males named Aragorn established himself as the dominant male. Fenodree was the oldest female; however, Gringo, Zorilla, and Kleintjie all fought for dominance. Zorilla won with her strength and size even though she was younger than both Fenodree and Gringo. Gringo didn't stay in the Commandos and soon left the group to rejoin the Gattaca along with Fenodree.
Gattaca
Gringo lived in the Gattaca the rest of her live. She mated with an unknown rover and later gave birth to a litter of pups on July 4, 2005, to four pups named Olly, Hugo, Flint, and Amelie. She was often evicted; however, with few adults in the gang, Risca allowed her to return to the group. She soon became the oldest female under Risca and would be the most likely to take dominance after Risca if her mother died. However, she died on December 13, 2006 of TB. She was one of the first to die of TB before the whole Gattaca was lost in 2007.
Family
Mother: Risca
Father: Mojadji
Siblings: Pancho
Grandmothers: Brambles and Luella
Grandfathers: Argon and Balrog
Great Grandmother: Ziziphus
Great Grandfather: Belgarion
Links