The
Hoppla Mob
was a short lived group formed in August 2008, by five
Lazuli
males and five wild females. The females were believe to be
Nutters
females but that was never determined fully.
J. Alfred Prufrock
assumed the role of dominant male, however female dominance changed due to disease. Within a few months all five females and one of the pups died of disease, and two wild females joined the group. They raised their first two litters but TB hit the group. The group was declared Last Seen after signs of disease and poor habituation. The group consided of two Lazuli males, two wild females, four in sub-adults and four pups July 2009.
One of the founding males later re-appeared in a wild mob known as the Zulus Mob two years later.
Dominant Pair
The dominant male spot was quickly taken by J. Alfred Prufrock, and the dominant female was VHPF002. However as all the females were suffering from disease and soon all died. Then two wild females join the group. VHPF007 took dominance early and remained the dominant female until the group was Last Seen in 2009.
All Known Members
All members who were born or joined into the group.
J. Alfred Prufruck
(VLM105)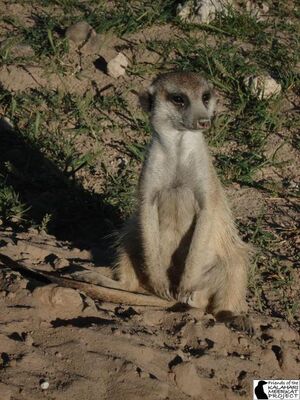 Bernard (VLM119)
Shaka Zulu (VLM124)
Bash (VLM126)
Bosh (VLM127)
VHPF001
VHPF002
VHPF003
VHPF004
VHPF005
VHPP006
VHPF007
VHPF008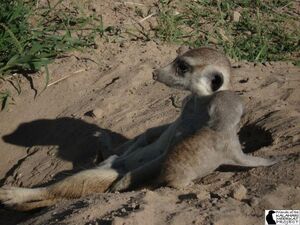 VHPF009
VHPF010
VHPF011
VHPF012
VHPP013
VHPP014
VHPP015
VHPP016
Last Known Members
The Hoppla had 10 members as of July 2009.
VHPF007 Dominant Female
J.Alfred Pufruck
(VLM105)
Dominant Male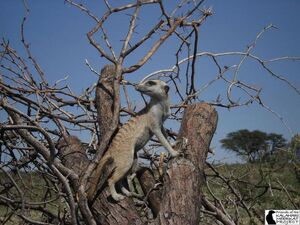 Bernard (VLM119)
VHPF008
VHPF009
VHPF010
VHPF011
VHPF012
VHPP013
VHPP014
Rivals
Hoppla's main rivals were the Lazuli Mob. Their territory was also south of Baobab and North of JaXX Mob and a wild group to the west. However the Hoppla only encountered the Lazuli.
History
August 2008: J.Alfred.Prufrock, Bernard, Shaka Zulu, Bash and Bosh joined VHPF001, VHPF002, VHPF003, VHPF004 and VPHF005. HPF001 was pregnant and Shaka Zulu went roving. J. Alfred Prufrock became the dominant male.
September 2008: HPF002 assumes female dominance, HPF002 was pregnant and evicted HPF001.
October 2008: Shaka Zulu and HPF001 were Last Seen (Shaka Zulu would reappear 19 months later as the alpha male of a new group called the Zulus)
November 2008: VHPF007 and VHPF008 joined the group while HPF003 and HPF004 were Last Seen and HPP006 was predated.
December 2008: VHPF002 and VHPF005 disappeared. VPHF007 took over as the dominant female.
January 2009: VHPF007 gave birth to VPHF009, VPHF010, VHPF011 and VHPF012. VHPF008 was pregnant.
Febraury 2009: Bash and Bosh were absent at the end of the month
March 2009: Bosh was Last Seen. Bash was absent. One of the female was pregnant. One encounter with the Lazuli.
April 2009: A female gave birth to VHPP013, VHPP014, VHPP015 and VHPP016. Bash was absent.
May 2009: No events.
June 2009: Bash, VHPP015 abd VHPP016 disappeared. There were signs of TB.
July 2009: J. Alfred Prufock, Bernard, VHPF007, VHPF008, VHPF009, VHPF010, VHPF011, VHPF012, VHPF013 and VHPF014 were all Last Seen because signs of TB and habituation didn't progress.