Kili Commandos

Mob(s)

Dominant

No

Date of Birth

February 16, 2008

Date of Death

June 5, 2009

Cause of Death

Tuberculosis(TB)

Parents

Litter-Mate(s)

Mate(s)

Unknown

Children

VCDP053 and VCDP054

Known For

Mother of the last Commando litter

Also Known As

Daughter of Beatrice
Kili (VCDF041) was born on February 16, 2008, in the Commandos. Her mother was Beatrice, a subordinate female, and her father was an unknown rover. Kili was born in an average-sized litter of four; her litter-mates were her one brother named Everest(VCDM039) and two sisters named Cho(VCDF040) and VCDF042. Within the same month, Beatrice was evicted by Zorilla, the dominant female, who was pregnant again. Also that same month, the dominant male Zarathustra died, and his younger brother Baker took over as the new dominant male. Despite the fact that Zorilla was pregnant, she made no attempt to kill or abandon the subordinate's litter. Beatrice eventually made it back into the group. Kili's litter survived their first three months, but sadly, in April, Kili's sister VCDF042 was predated. When Kili was six months old, her mother Beatrice was evicted and disappeared from the study area. Kili and her remaining sister Cho and brother Everest reached their first birthday. Kili soon started to attract rovers to the mob and became interested in the males, and she was first reported to be pregnant in the February of 2009. However, disease was also spreading through the group, which took the lives of several members, including Zorilla. During her pregnancy, Kili was seen with a tuberculosis lump; she possibly contracted it from the rover she mated with. In March of 2009, Kili gave birth to VCDP053 and VCDP054. Sadly, Kili succumbed to tuberculosis, and both of her pups died as well shortly before the Commandos were lost. Kili died on June 5, 2009, and not long after, her sister Cho, dominant female Celidh, and subordinate female Rastas died and with the collared female gone, the Commandos could no longer be tracked.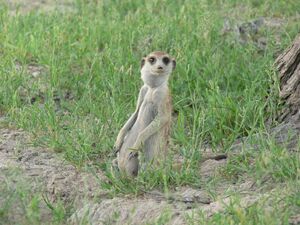 Family
Mother: Beatrice
Father: Unknown
Brother: Everest
Sisters: Cho and VCDF042
Mate: Unknown
Children: VCDP053 and VCDP054
Links