LLCoolj Lazuli

Mob(s)

Dominant

Yes, of Lazuli and JaXX

Date of Birth

Unknown

Date of Death

June 2019

Cause of Death

Last Seen

Parents

Unknown

Litter-Mate(s)

Unknown

Mate(s)

Children

Elise The Great

, VLM220, VL?221, VL?224, VL?225, VL?226, VJXP101, VJXP102, VJXP103, VJXP104 and VJXP105

Known For

Twelfth Dominant Male of the Lazuli

Also Known As

Sixth Dominant Male of the JaXX
Lazuli
LLCoolj(VLM207) was first seen in October 2013 along with wild males Maximus and Jazzy Jeff and habituated male Bumpy. They Joined the Lazuli group who had just lost their dominant male, Rufus and Jazzy Jeff took dominance. He would often go roving along with Maximus. In April 2015 Jazzy Jeff went roving and LLCoolj took this chance to overthrow him and became the dominant male alongside JubJub Bird. She would give birth to several litters fathered by him. In January 2017 after around a year and a half of being dominant he, Jazzy Jeff and Palestrina left the group after JubJub his mate, was found dead.
JaXX
The trio would come across the JaXX who, at the time, had not many males so they joined the group. LLCoolj would immediately take dominance alongside Baloo, Baloo would give birth to VJXP101, VJXP102, VJXP103, VJXP104 and VJXP105. Baloo gave birth to another litter in August 2017, but the pups were lost before emerging. Baloo would give birth to two more successful litters in November 2017 and April 2018 with LLCoolJ as her partner. Shortly after, LLCoolJ was ousted from JaXX by a Lazul male named Leonard. After a few months of wandering the area in search of a new group that would accept him, LLCoolJ eventually succeeded.
Little Creatures
In August 2018, LLCoolJ came across a small group known as the Little Creatures. Initially, both male and female dominance was unclear, but LLCoolJ appeared to be in a good position to assert himself as an experienced dominant male. By September, this was indeed the case. However, the position of dominant female remained unclear. LLCoolJ's newfound reign was short lived. By November 2018, LLCoolJ had lost dominance to his son, VJXM104 who had recently joined the group. LLCoolJ was involved in a group split during January 2019, and initially did not return with the rest of the splinter group, opting to go roving instead. However, he did rejoin the group in February. LLCoolJ left Little Creatures to rove in June 2019 and never returned. Therefore, he was considered Last Seen.
Offspring
First known litter born in July 2015, mothered by JubJub Bird.
Elise the Great (VLF219), Last Seen in March 2017
VLM220, Last Seen in August 2016
Filthy McNast (VLF221), Still Alive living in the Lazuli
Second litter born in July 2016, mothered by JubJub Bird.
VLM224, Still Alive living in the Lazuli
Cafrine, (VLF225), Still Alive living in the Lazuli
VLF226, Still Alive living in the Lazuli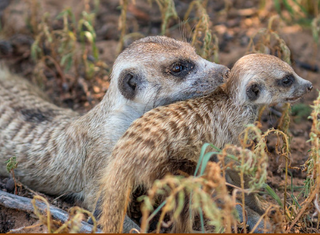 Third litter born in March 2017, mothered by Baloo.
VJXP101, Still Alive living in the JaXX
VJXP102, Still Alive living in the JaXX
VJXP103, Still Alive living in the JaXX
VJXP104, Still Alive living in the JaXX
VJXP105, Still Alive living in the JaXX
Links