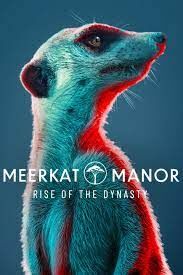 Meerkat Manor: Rise of the Dynasty is a new instalment in the Meerkat Manor series, the television phenomenon renowned for its compelling, character-led storytelling. The series is a BBC America co-production with Oxford Scientific Films, and is a heartstring-tugging, dramatic tale of survival revolving around tree families who are descendants of the legendary Meerkat matriarch, Flower. These neighbours and rivals who share a bloodline are forced to compete for food and resources in an environment that is undergoing a great deal of change: the Kalahari Desert in South Africa. The 13, 30-minute episodes will premiere on BBC America in 2021. (May 29th AMC & June 5th elsewhere). As of July 10, the first five episodes have aired, with the remainder of the season to air starting in September on BBC America.
Caroline Hawkins, Creative Director, Oxford Scientific Films said" It's been 12 years since we caught up with the Whiskers and all the other meerkat families that viewers all over the world fell in love with. A lot has happened in that time and we are delighted to be bringing them back in glorious 4k".
Strength lies in numbers in meerkat society, so producing babies is a priority for the dominant couple of each family. But offspring only happen when times are good, and times haven't been great of late in the Kalahari. Like everywhere else in the world, climate change is revealing its challenges. Seasons are drier, hotter, rainfall is less frequent and more unpredictable. This means food can be hard to find and the meerkats must be tougher and more resourceful than ever. Fights and raids by other groups are common, and each family will live or die by the strength of its leaders.
Episodes:
A list of the 13 episodes:
Featured Mobs
Featured Meerkats:
Whiskers:
Swift Whiskers (Dominant Female)
Brea Lazuli (Dominant Male)
Mole-Rat Whiskers (A Molerat Whiskers)

Meicko Whiskers

Bel-Hurricane Whiskers

Woolf Whiskers

(Virginia Woolf Whiskers)

Bronté Whiskers

(Emily Bronte Whiskers)

Wilde Whiskers

(Oscar Wilde Whiskers)
Hakuna Matata:
Notice: Mob has moved out of the research area as of February 2022
Ubuntu:
Daisy Baobab (Dominant Female)
Scar Ubuntu (Dominant Male; season 1 - Last Seen May 21, 2021)
Jumper Trackie-Daks (Dominant Male; season 2)

Stan Ubuntu

(Stanislas Ubuntu)

Stitch Ubuntu

Ricky Ubuntu (RickandMorty Ubuntu)

Rupert Ubuntu

(Rupert Holmes Ubuntu)

Michel Ubuntu

Magali Ubuntu

Mameuf Ubuntu

Masekind Ubuntu
Zulus
Pixie Whiskers

Jay Whiskers
Namaqua