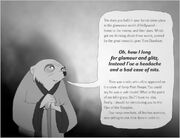 Ninja Meerkats
is a series of fictional books written by Gareth P. Jones and illustrated by Luke Finlayson and Domingos Aquino. The series began in 2011 and is still ongoing, with a ninth volume set to release mid-2013. The books are based on a group of four kung fu fighting meerkats, dubbed The
Clan of the Scorpion,
and their missions to foil the evil plans of their human enemy, the Ringmaster, and his minions.
Characters
The Clan of the Scorpion
Chuck Cobracrusher - the calm and brave leader of the clan.
Jet Flashfeet - the impetuous one.
Bruce Willowhammer - the one who's always hungry.
Donnie Dragonjab - the technolgoical genius.
Others
Grandmaster One-Eye - a wise old meerkat and mentor of the clan.
Ringmaster - an evil human who wants to take over the world.
Doris - the Ringmaster's pampered poodle.
And many more!
Books
A list of all the books released in the series:
Clan of the Scorpion
Eye of the Monkey
The Escape From Ice Mountain
Hollywood Showdown
The Tomb of Doom
Big City Bust Up
The Ultimate Dragon Warrior
Outback Attack
The Forbidden Palace
Gallery
Links
Community content is available under
CC-BY-SA
unless otherwise noted.