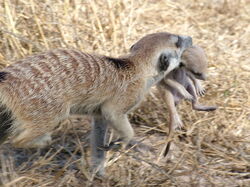 The
Nomads
was formed in October 2004, when three females were evicted from the
Elveera Mob
. One of the females was born in the
Zappa
mob, but grew up in Elveera after she was adopted. The three females disappeared for six months but reappeared in March 2005 with a
Drie Doring
male, a
Frisky
male and nine offsprings. The group was collared and established well, but not long after the Nomads began to have frequent and violent battles with a nearby wild group. In mid 2006 disease hit the group hard and the Nomads soon were lost.
Dominant Pair
Domiannce in the Nomads is unknow. Most likely one of the Elveera females took dominance, since the Zappa female was the youngest. Either the Drie Doring male or Frisky male took the role of dominant male.
All Known Members
List of all meerkat born or joined the Nomads.
VEF???
Sexy Scurrie (VEF0??)
Dr. Kimble
(VZZF017)
Cadw Mynd (VDM092)
Punana (VFM094)
VNOP001
VNOP002
VNOP003
VNOP004
VNOP005
VNOP006
VNOP007
VNOP008
VNOP009
+Plus more litters later on
History
October 2004: Three evicted females from the Elveera and disappeared.
March 2005: The evicted females were discovered with a Drie Doring male, a Frisky male and nine offspring. Cadw Mynd was the dominant male.
November 2005: Dr. Kimlbe disappeared, was either predated or evicted and Last Seen.
Septeber 2006: Cadw Mynd and Sexy Scurrie died of TB.
In late 2006: The Nomads were lost.