Piglet Aztces

Mob(s)

Dominant

No

Date of Birth

December 26, 2007

Date of Death

November 2010

Cause of Death

Last Seen

Parents

Litter-Mate(s)

Mate(s)

None

Children

None

Known For

Born in the first litter born in the Aztecs

Also Known As
Aztecs
Piglet(VAZM004) was born into the Aztecs Mob on December 26, 2007. His mother was the dominant female Monkulus, and his father was Homestar Runner. When they were born Zaphod had already took over dominance from Piglet's father. His litter-mates were Marmite(VAZM001), Tofu(VZAF002) and Abaca(VAZF004). They were the first litter born in the Aztecs. They survived to adulthood. It wasn't untill almost a year later in August when Monkulus gave birth to the second litter Dali, Darwin, Mimi and Moliere. Piglet wasn't old enough to hepl his mother out with the new pups. Then in November Monkulus gave birth to three pups Lola, Chaka and Proteus. A month later Piglet and his litter-mates reach their first birthday and started to babysit and take sentry duties. In February 2009 Tofu disappeared leaving Abaca as the oldest female under their mother. Around a year and a half, Piglet and his brother Marmite started to rove more often at nearby groups. Sadly Piglet's other sister Abaca disapeared in January 2010. When Piglet reached two years old, he started to spend more of his time roving away from the group. He started to rove at the Baobab, Lazuli and Van Helsing mobs more often. Piglet and Marmite started roving with their uncle Alonzo Mourning and their younger brothers. Piglet was seen on guard duty for his family.
Hells Angels
In November 2010, Piglet went roving with his litter-mate Marmite and his younger brother Darwin. The three rovers joined two wild meerkats of unknown genders but they most likely were females. The new group was called the Hells Angels Mob. Piglet was one of the oldest males but his litter-mate brother Marmite was the same age and size. However the group was lost before any clear dominance could be established. The two wild meerkats started to show signs of disease so the Hells Angels was abandon and no longer followed. It is unknown what happen to Piglet. The wild females likely died sooon after. The Aztec males either died as well or they could have escaped the disease and joined another mob.
Meerkat Manor
Piglet was featured in the last episode of Meerkat Manor: The Next Generation. All the pups were given Beatles band member last names. Piglet played a pup named Harrison. Abaca played a pup named Ringo. Tofu played a pup called Lennon. Marmite played McCartney. They were the first pups born in the Aztecs to their mother Maybelline (Monkulus).
Family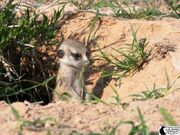 Mother: Monkulus
Father: Homestar Runner
Brother: Marmite
Grandmothers: Flower and Asterix
Grandfathers: Yossarian and Alexander
Links