Polon JaXX

Mob(s)

Dominant

Date of Birth

April 2016

Date of Death

December 13, 2019

Cause of Death

Predated

Parents

Litter-Mate(s)

Mate(s)

Children

Unknown

Known For

Taking of Dominant Male position of

Lazuli Mob

at record young age

Also Known As

No information
JaXX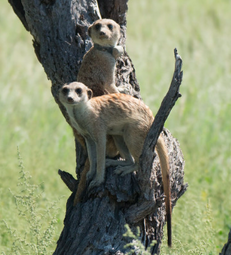 Polon(VJXM095) was born into the JaXX Mob in April 2016. His mother was subordinate female Baloo and his father was most likely an Ewoks rover named Sachin. Polons Grandmother was Cloudbreak JaXX but Grandfather was a roving unknown male. He had three other litter-mates, Wawel(VJXM093), Nezumi(VJXF094) and Myt(VJXF096). In September 2016, at the age of five months, Polon went roving for the first time along his litter-mate Wawel and three-month olds Jabok Black and The Living From. In November 2016, the dominant female Teahupo'o was lost and Baloo his mother took dominance. Sadly the next month Nezumi would be Last Seen, most likely being predated. In January 2017, at the age of ten-months Polon left the group with five-month olds Jabok Black and The Living From to rove.
Lazuli
Polon and the two five month-olds found the Lazuli. They had just lost their dominant pair and all adult meerkats. Polon and the five-month olds joined the group and Polon took dominance alongside Elise the Great. This made him the youngest acting dominant male in KMP history She got pregnant with his first known litter but sadly she was lost in February. Minnie took dominance next to Polon next and she got pregnant in March 2017 and gave birth along with females Filthy McNast and VLF226. Sadly pregnant 9-month old Cafrine, killed all these pups. Sadly, Minnie was predated in August 2017 and Filthy McNast assumed dominance in her place. Polon seemed to accept her as his new mate. However, she did not produce any successful litter during the remainder of Polon's reign. Polon was predated on December 13, 2019. Signa did produce a litter during the same month shortly after his death and they are presumably Polon's last offspring.
Family:
Grandmother: Cloudbreak JaXX (Still Alive | November 2014)
Grandfather: Unknown Male
Mother: Baloo JaXX (Still Alive | November 2018)
Father: Sachin Ewoks (Last Seen | February 2016)
Brother: Wawel JaXX (Deceased | TB December 2017)
Unknown:

Nezumi

-(Last Seen | December 2016) &

Myt
Polon's Offspring:
The first offspring (March 2017) fathered by Polon & mothered by both his mates Minnie Lazuli & Filthy McNast pups was all killed by Cafrine Lazuli.
Links:
JaXX Mob]]