Pretenders Mob

Date of Forming

Janaury 2009

Founders

Dominant Female(s)

Dominant Male(s)

Last Dominant Female

VPTF001

Last Dominant Male

VPTM006

Number of Members

12

Last Seen

February 2010

Last Known Member

VPTM007, VPTP008 and VPTM009

The Pretenders Mob were formed in January 2009, when the Sequoia Mob split up. The group consisted of Finn, Van Der Wethuizen, VSQF003, VSQM004, VSQP006 and VSQP010. Sid Vicious joined the group after an encounter with Sequoia while Van Der Wethuizen returned to the Sequoia. Throughout 2009 the group was sighted but not followed, until October 2009. During that time the dominant female, Finn, had died. VPTF001 assumed the role of dominant female after Finn's death. Sid Vicious remained dominant until December 2009 when he disappeared along with subordinate male VPTM003. Shortly after a wild male joined the group and took dominance. In January 2010, two wild males emigrated, one bringing a pup along with him. In February 2010, VPTF001 died and the Pretenders were lost.
Dominant Pair
Finn and Sid Vicious were the first dominant pair of the group. After Finn's death VPTF001 took dominance. Sid Vicious disappeared in late 2009, leaving VPTM006 to become the next dominant male.
All Known Members
Van Der Wethuizen (VTYM001)
Sid Vicious
(VHXM002)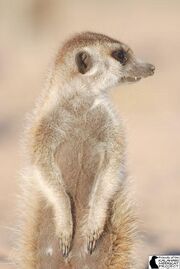 Finn (VWF091)
VPTF001 (VSQF003)?
VPTM002 (VSQM004)?
VPTM003 (VSQP006)?
VPTF004 (VSQP010)?
VPTP005
VPTM006
VPTM007
VPTP008
VPTM009
Rivals
The Pretenders' main rivals were the
Sequoia Mob
, the group in which the Pretenders had formed from. Their territory was also near the
Nequoia
,
Kung Fu
and
Van Helsing
.