Ewoks
Sarah-Anne(VEKF032) was born in September 2014 into the Ewoks Mob. Her mother was McDreamy the dominant female at the time and her father was Tigi the dominant male. She had two brothers, Isosceles(VEKM031) and Doug Doug(VEKM033). The Ewos at the time were very well established and so Sarah-Anne and her two brothers survived to adulthood. Sarah-Anne wasn't evicted for the first time until June 2016. After that she never returned to her home group.
Thunderkatz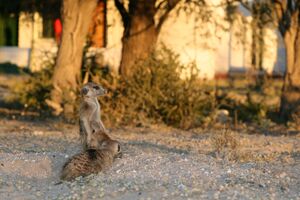 Sarah-Anne was found in July with JaXX males Poletje and Chewbacca, Überkatz female Gyllyngvase and Ewoks male Genie. The group was dubbed the Thunderkatz. Gyllyngvase was immedietly lost to TB and so Sarah-Anne became dominant by default. Poletje took dominance next to her and they soon produced the first and only litter in the Thunderkatz in August. This litter only consisted of VTKP001. Soon after the pup would be lost and the three males would soon leave her. Whiskers males Pet and K-Quob briefly joined her with Pet taking dominance. K-Quob soon left to rejoin the Wiskers while Pet left for the Hakuna Matata. Sarah-Anne then found a new group that wanted her marking the end of the Thunderkatz.
Nematoads
Sarah-Anne joined the Nematoads Mob in October 2016. In January Sarah-Anne got pregnant and gave birth the next month. Sadly this litter would be lost and the next month both she and the dominant female Laciana would be lost to TB. This would also mark the end of the Nematoads.
Links
Community content is available under
CC-BY-SA
unless otherwise noted.