Shady Young Ones

Mob(s)

Dominant

No

Date of Birth

April 1, 2006

Date of Death

February 27, 2007

Cause of Death

Tuberculosis

Parents

Litter-Mate(s)

Mate(s)

None

Children

None

Known For
Young Ones
Shady(VYM134) was born on April 1, 2006 in the Young Ones. His mother was a subordinate female named Tequila and his father was an unknown male. Shady was born with two litter-mate brothers, Weena(VYM135) and Bungle(VYM136). The dominant female of the group, Asterix, spared the pup's lives. However, she did not spare Shady's mother, Tequila was a main target for eviction. In June 2006 Tequila was kicked out of the grou along with another subordinate, Phalanges Paah. Two-month old Shady followed his mother and aunt.
PQ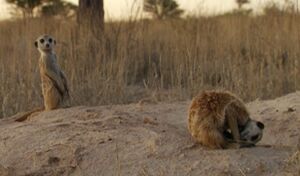 Shady, his mother Tequila and aunt Phalanges-Paah were soon joined by three roving Lazuli males and formed a small mob called PQ. Tequila established dominance alongside JD. However, the males were infected with TB. The disease quickly killed Wawa and Phalanges-Paah. In August 2006 JD and the subordinate male Shoy left the group, and Shady went with them. This left Shady's mother Tequila alone. But she was eventually joined by a wild female and together they remarkably managed to gain acceptance into the Balrog Mob.
Starsky
The three roving males, Shady, Shoy and JD joined up with four evicted Whiskers females, Mozart, Kinkaju, Armanita Ditch and De La Soul. They stayed together and formed a new mob called Starsky. Shady's new mob established a territory bordering Young Ones, his original group. By this time Shady was four months old, only a juvenile. JD once again became the dominant male while Kinkaju became the dominant female. Like with the PQ mob, the group became infected with TB and struggled to produce litters. JD was the first to die of the disease, followed by Armanita Ditch. Shady was the next to succumb. He sadly died of the disease on February 27, 2007. Following that the group continued to die out. In April 2007 the last remaining member, Mozart, was predated and the group was lost.
Meerkat Manor
Shady was featured in the third season of Meerkat Manor and went by his real name. He was only mentioned once in the episode The Death of Romance, in which he spotted a snake in the grass and warned the Starsky of the danger. The group mobbed the snake but eventually had to move on. In that same episode Shady briefly played as Mozart and was seen watching over Carlos(JD), who was sick from TB. The Starsky weren't mentioned again until later in the season when only three meerkats, Kinkaju, Mozart and Whoopie(De La Soul) remained.
Links